Look out here's Starbreaker
Cruisin' into town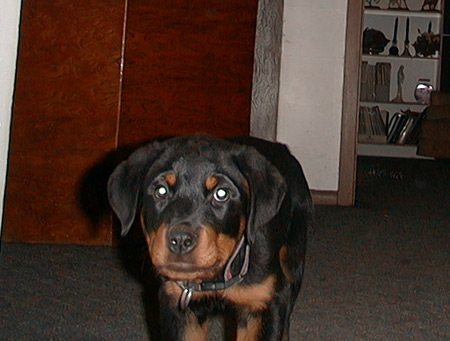 Set his mind on stealin'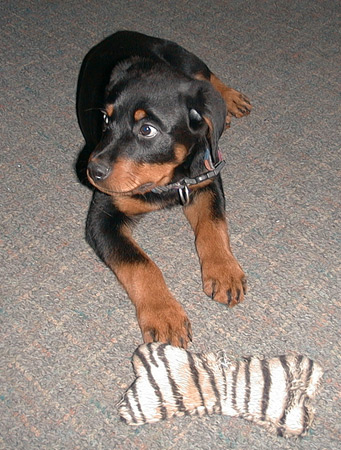 Every little heart around!
Step out on the sidewalks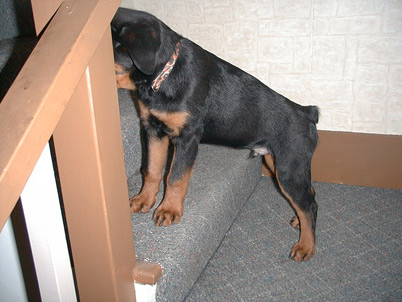 If you're feeling game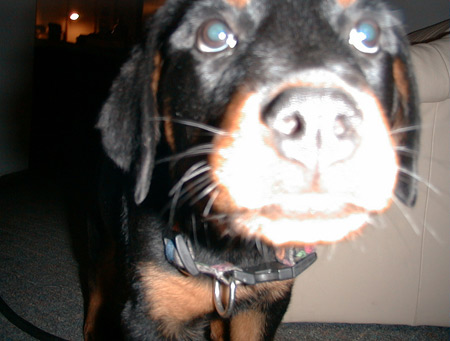 He comes but once a lifetime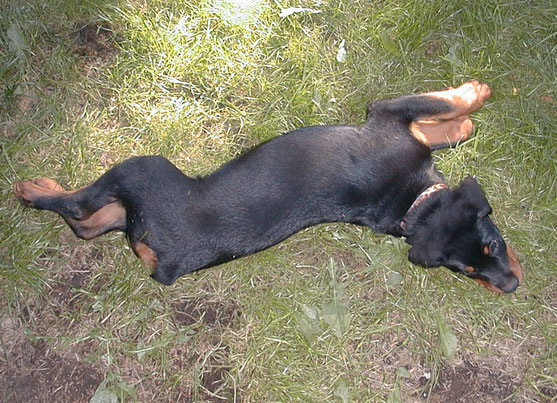 Never seen again.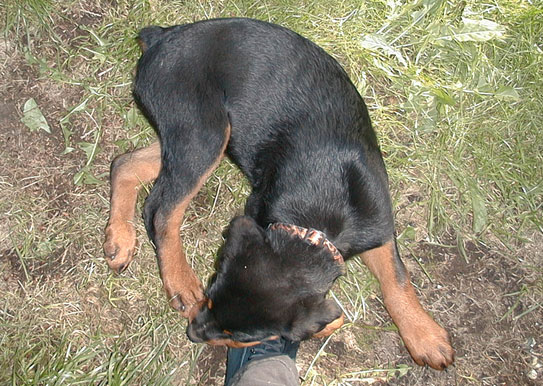 Our new puppy, Starbreaker. We got him from Cultus Mountain Ranch & Kennel in Mt. Vernon on 7/16/05. He is cute, and needy and trusting, and he completely doesn't understand why Skippy (the kitty) won't play with him!!! (I mean really -- just look at the face!) He's still floppy -- all paws and ears. He plays a little, but mostly he's calm and cuddly.
When we got to the Ranch, we walked over to the 1st of 3 puppy enclosures and he saw Paul and peeked over the edge of his pen -- just two paws and a nose. He didn't take his eyes off of Paul until we were out of sight and every time he heard Paul's voice, he peeked out again right away. When I picked him up he hugged me and cuddled. Later on when Paul picked him up he snuggled under Paul's chin, cuddled as close as he could, and started making the happy sighing sound.
When we found out what fabulous taste we had, we nearly choked on the purchase price, but she came down quite a bit since he was to be a family pet and not a show dog or breeder. He came with a warranty, LOL! It's a good investment as we got to see the sire and he's sure going to be a beauty. He's very sweet and cuddly and pretty calm. Despite anti-nausea medication, he barfed twice on the way home from Mt. Vernon, but that's been our only incident. He asks to go outside and so far has pottied outside every time. Good boy!
Tinkerbell is a bit suspicious and jealous, and Skippy isn't currently speaking to me. Overall, though, it hasn't gone badly and I think we'll be OK in a couple weeks, plus a little puppy training (although Tinkerbell has already started working on that).
Welcome to our family, Star! Daddy and Mommy have talked it over and we think that if Vern could see you with us, he'd be doing the happy dance.